WebsiteSaver™
Website Builder
Website Saver™ - Search Engine Optimization (SEO) and Web Content Management System (CMS).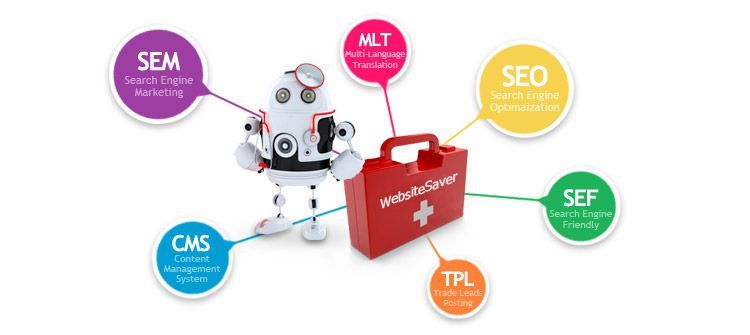 WebsiteSaver™ is to provide a quick web site maintenance and management of solution, and can help get a good search engine marketing effectiveness.
Using the WebsiteSaver™ just like using Microsoft Office as simple as editing files, no need to hire web designer or web Design Company to maintain Web site. A Clerical Assistant will be able to operate freely.
How to Increase website traffic seriously threatens suppliers to re-build their sites or spend a lot of money to buy SEO services, do you have this trouble?
A search-engine friendly site is a user-friendly, search-friendly, and persuasive site that converts visitors into buyers. In order for a site to be search-engine friendly, it must meet the terms and conditions set forth by the search engines (Google, Yahoo, Bing, etc.) Additionally, the site must satisfy the needs of site visitors. Ultimately, the site must be profitable for the site owner. Can a single site satisfy all of these groups?
By engaging WebsiteSaver™ to your site, we promise you a fast, efficient and search engine friendly environment to approach worldwide buyers, with adequate languages and regions.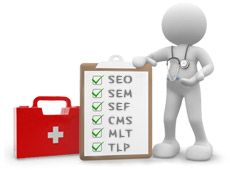 WebsiteSaver is a system developed by a team of Ready-Market's elites. It contains:
Search Engine Optimization, SEO
Search Engine Marketing, SEM
Search Engine Friendly, SEF
Content Management System, CMS
Multi-Language Translation, MLT
Trade Leads Posting, TLP
WebsiteSaver™ uses Amazon Web Services (AWS)'s powerful cloud virtual server, which permits your site to get up and run, accordingly, it allows viewers to reach your website rapidly.
You can be in charge of your own website!
WebsiteSaver™ provides an easy and fast management tool for you to modify and update the content of your site. There's no complex coding, just basic knowledge of Microsoft Office is needed.
WebsiteSaver's Dr. SEF assists you to build a website that is search engine friendly and delivers Quality Score examination on every single page. By knowing the Quality Score of each page, it is precisely adjusted to meet search engine's criteria. Once the website is defined to have high Quality Score, it is recommended to the global visitors.
Why WebsiteSaver™?
WebsiteSaver™ is a web-based content management system (CMS) built from the ground up with search engine optimization (SEO) requirements at its core.
WebsiteSaver™ 7 Major Features, solving many sites cannot be suitable for search engine marketing and Web content management problems :
With SEO (Search engine optimization) search engine friendly and Conditions.
SEO search engine friendly, it contains a lot of conditions, but nothing more than "Optimizing web server configuration", "optimize the website structure and keyword settings", "firewall and Search Engine Robots optimization settings" ... such as basic conditions. Without these foundations, Search engine registration and crawl is really difficult, even impossible to find any opportunities from the Internet. Now WebsiteSaver™ regarded these features as necessary, and take the initiative to remind their clients of SEO search engine-friendly well prepared, so that SMEs do not take the time to understand or to learn how to prepare the search engine marketing, use the "WebsiteSaver™" allows you to easily capsule given opportunities.
Easy to edit web pages through the WYSIWYG.
Once your site into WebsiteSaver™ mode, simply type the account password in the web page, you can immediately use the WYSWYG edit page content directly, without having to learn complicated Content management tools. As long as you understand how to use Microsoft Word, would have learned web page editors, and even directly from Microsoft Word reposted elsewhere to the page, edit them relatively easy to produce strange dislocation, whether you want to post pictures, change images, fonts, changes, adding more tables,,,,, etc., can be arbitrary. (WYSIWYG: What You See Is What You Get) .
DIY Simple changes online inquiry form.
Website saver provision of DIY online editing Inquiry Form, simple add fields, change field names, the definition of field formats, the definition of the required fields, can be arbitrary arrangement of the order of the field. Through the special needs of your industry, Simple to use WebsiteSaver™ design allows visitors to leave your valuable message, and can be modified at any time.
Painless and easily transfer your site to the WebsiteSaver™.
Many enterprises replace the Web site service provider after they have been a result of system and service compatibility problems, need to re-create site. Once again to spend time planning page structure, layout, articles, layout and so on .... Now WebsiteSaver™ will be available quickly Site transferred, and without having to learn a complex and convoluted Content management application and the Web Server configuration, you can immediately edit the page so that you save time for many other redevelopment sites.
No website builder still is able to easily modify and add pages.
Many enterprises are commissioned website design companies build Web site. After website launch then found your web site in search engines is not easy to find, look for Search Engine Marketing company to promote, will pay a lot of time and costs. Now, with WebsiteSaver™, can immediately help enterprises, the original web page without editing management functions, can be arbitrary editing, saving additional costs.
Website maintenance with the Rollback function.
WebsiteSaver™ to provide Rollback function (Version control), recently revised web pages through the Rollback function can be restored to your specified time, avoid errors caused by operation of regret, is the most convenient and secure web site maintenance tools .
Support Google Web Traffic Analysis.
Management of Internet marketing results, you must install the traffic analysis system, can we keep abreast of what countries visitors come from, which pages are viewed ... and other important reports. Now, WebsiteSaver™ you can easily set up Google analytics code, you can get your site to immediately have a professional web site traffic analysis report, without going through page by page designers and engineers put away flow analysis code, WebsiteSaver™ to save money , effort and time-saving.
More about our "WebsiteSaver™", please visit the below URL: (Traditional Chinese Version)
http://websitesaver.ready-market.com
Make your move
We spend time to understand how your company works and what your goals are. Contact us now for further consultations!
Ready-Market Online Corp. / 3F-1, No. 143, Sec. 1, Keelung Rd., Xinyi Dist., Taipei City 110058, Taiwan
TEL : +886-2-2748-4387 / FAX : +886-2-2748-6261
E-mail : service@ready-market.com
Ready-Market Online Corp. / 3F-1, No. 143, Sec. 1, Keelung Rd., Xinyi Dist., Taipei City 110058, Taiwan
TEL : +886-2-2748-4387 / FAX : +886-2-2748-6261
E-mail : service@ready-market.com