Now you can reach your search engine marketing goal and save you the hassle
Successful Content Marketing
From Trade Show to Internet, B2B Portal to Search Engine – What Makes Buyers Change The Way They Surf?
Are you one of the suppliers or project managers who is responsible for generating company business? What do you do except updating your company product pages, attending tradeshows or just trying to maintain good relationships with old clients and hope they will stay forever. For the last ten years, I've been traveling around the world attending trade shows and going online to help suppliers to promote their products. When I started seeing buyers ripping off pages from guide books and throwing the rest of them into trash cans at tradeshows, I knew advertising campaigns were changing.
Having a group of staff participate at a trade show in Germany for instance, you are expected to spend a lot for a regular sized booth, and that's just for one show! Therefore, there were more and more companies shifting their marketing budgets from exhibition to internet.
Years ago, when Alibaba and Global Sources started B2B portals, every company joined because buyers go there. All you needed was product pictures and descriptions -that's it, and you waited for buyers' inquiries! Over time, the spotlight dimmed. Why? For buyers, it's due to the lack of supplier company and product info. For suppliers, it's about the quality of inquiry they received.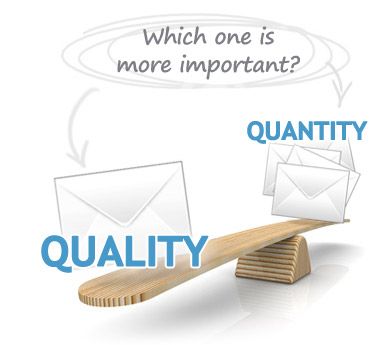 For many years, I've heard suppliers complaining about the pain going through all the emails they received. "There are many of them, but all I need is a good inquiry" says a client. And it got worse, when suppliers stopped being members on portals; they have nothing left. (Well, remember you don't own the site?)
Unqualified Inquiries can be:
scams,
unclear messages,
marketers checking out the market,
buyers doing price comparison,
advertisements, and
inaccurate email addresses.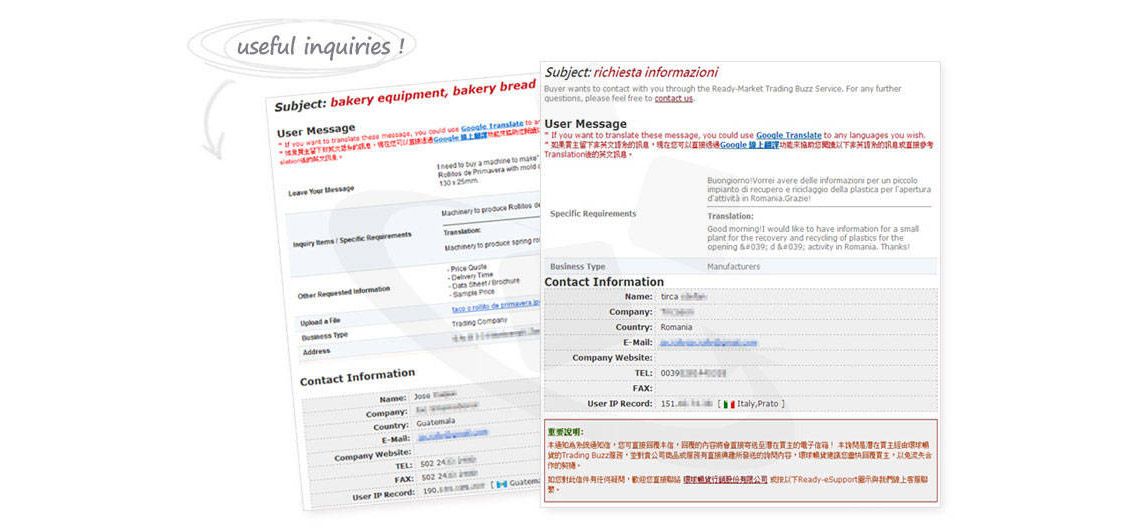 Buyers Today Want to Know More Than Just Products – Start Building a Real Site to Gain Your Own Credits for Search Engines
Instead of typing in web addresses from name cards to visit company sites individually, search giants like Google and Yahoo help buyers to gather all the info exactly – pages of it. Thus a good search engine ranking becomes a big deal because it determines how much you will be seen.
Buyers' behavior is altered because search engines pick high-impact content articles, suppliers need to change the old way of thinking in order to reach them. No flash! No animation! Just plenty of valuable information to convince your potential buyers. To build a functional site that would allow search engines to recognize you, it will be another chapter to talk about - the coding, the web server and the multiple-language techniques, etc. We won't get into that; let's just stay focused on the editorial section.
There are a few stages before buyers make purchase actions - Awareness,Research,Comparison. After writing industrial articles for so long and analyzing how each viewer reacts to them, we have come to a conclusion on how to make your viewers stay (awareness) – be informative, be authentic, and be professional. When you talk professional and provide vivid stories, visitors stay, traffic increases, and high quality inquiries are delivered to you.

Talking professional means to show what you've got, and that should include the presentation or the proof of:
production plant and its capacity; it proves your existence and can handle big purchases,
certifications (ex: ISO, TS16949, TPM, CE); it shows that you can meet deadlines under rigorous management,
processing equipment and test gauge to convince buyers that you provide strictly tested products, and
product info (detailed product description! Not just specifications and meaningless numbers!).
Introduce your company:
company's team,
company's culture,
years of experience, and
great stories between company and clients.
The More Real Life Stories. The Better.
I know, I know, we get it: you have over 30 years of experience and you know what you are doing. But when your website looks like you really don't have much, how do you convince viewers; your potential buyers? Without seeing you and your company in person, you really need to persuade visitors with solid data and plenty of info.
Once you have all the info ready, storytelling (business stories) is next! Persuasion is the main feature of business. Without seeing the actual person and product, you need to resonate with your buyers with stories that would engage their hearts. Storytelling helps you to sell your services and products.
To deliver an appealing story, you should consider these elements:
who were your buyers, how did you get to know them, (a little of twist can make story more interesting),
what were the requirements (maybe your potential buyers happen to have the same requirements),
difficulties for reaching their goals (how did you achieve the goals and won their trust and orders),
what was the drawback of whole deal,
buyers' compliments and friendships,
what did you sell; product introductions,
production capabilities and product advantages,
manufacturing procedures (production line),
why was your product competent?, and
how many years of cooperation?
Why Good Stories Make Good Search Engine Marketing?
Persuasion without seeing the actual person and product takes time to build a trust relationship between suppliers and buyers. Suppliers have to allow buyers to get familiar with the companies and also deliver enough product information to show you really have something to provide! In the end, touching stories will convince buyers to send inquiries.
"Yes, building and operating a content factory is a significant undertaking that requires time, money and resources. However, if you are serious about attracting and retaining more customers and driving sales, establishing an in-house content factory is one of the best ways to do so."
- Cited from "It Takes a Content Factory", book author, Joe Pulizzi.
My Interview with Suppliers – What Makes a Remarkable Story
During my interviews with our clients, who have brought Taiwan to a booming economy, most of them felt awkward about telling stories. To them, that's what they do every day, they are not stories.
After my guidance, they slowly loosen up and start narrating incredible stories passionately that I was attracted to. There are stories about how this powder handling equipment manufacturer built a power handling production plant that would meet Nestlé's international standards; how a control arm company's logo became recognized in Japan and started selling auto parts rather than accessories to U.S. car makers ; how this food making machine company's engineering team has been developing dynamic food machines to meet people's taste worldwide; how boats were built 41 years ago and now the business was passed on to the next generation; how an investment casting manufacturer has sold their services to a leading orthopaedic device company in the U.S.; how textile company thrived to survive; and the obstacles they were facing competing with Mainland Chinese and global markets.
"Opportunity is for people who are ready.", said a supplier who's been tackling TPM and ERP systems relentlessly.
More than 30, 40 years of experience might not seem impressive since there are old brands over a hundred years old. What makes them unique are the stories behind them, the ruthless and passionate work, which provokes potential buyers to act. It also has become my mission to write stories and let people around the world aware of these incredible companies.
It gets rough when suppliers say "oops, can't show buyer's names"
Things go wrong when your clients call you and say: sorry, we can't show our buyer's name, it's confidential. After spending a day with a company and collecting all the materials I need, which would allow me to write and create a website, a site that provides company introduction, product info and stories for visitors!
However, it happens when suppliers refuse to show: the name of their buyers, their technology, machine details, etc. It turned out the whole article is either "he", "she", "it" or "the company", which makes it harder to spread the story around when every word in the article is shady. And we do find that visitors don't stay as long.
If a good, successful business is involved with people from various teams, finding the wrong person to do an interview can turn out to be a waste of time. It is important to communicate with our clients to make they understand the purpose of this meeting so they have the right people ready. Besides that, videos, product pictures, company catalogue and anything that would help me to build a website is necessary.
Before I interview a supplier, I would surf websites, check out their competitors to get to know the industry. To know what other competitors are doing is important, and I look at things differently from my own perspective to think outside of the box!
When I interview our clients about their products, I would ask them to treat me like an amateur who just wants to start a business and needs their help. You might think it's easy, but with suppliers who have been selling products for 30 years, the industry talk might stop them from finding new buyers because they assume other people all know the products already. "Well, this is how we sell, all of the specifications are on the paper…I am not sure what to talk about.", once a supplier replied.
Internet Marketing – Are You Ready?
From Hummingbird*¹ to Penguin*², Google has been modifying its search algorithm (500-600 times per year) to make their search results fair. It means if you think you can trick them by adding keywords or links to get a good ranking, don't bother! If an SEO company tells you that they can get your company name to appear on the 1st page in a short time, you can teach me how.
What most suppliers are doing to find buyers:
join B2B Trade Lead and B2B Portal,
build a company official site,
Google Adword,
SEO (Search Engine Optimization)
What most companies are missing:
distributer site,
WOM,
trade hub,
video,
email,
RSS Feeds,
webinars,
podcasts,
social network campaigns and,
news.
All together, we call it go-to-market-strategy. What is Go to Market? It is a series of search engine marketing tactics that help companies to create relationships with their buyers. As a supplier, you wish your online visitor eventually becomes your regular client, but from viewing to action takes work. Work from you and us! You are probably thinking about the strategies like creating Facebook, twitter or LinkedIn, and I know some companies pay search engine marketing companies to manage Facebook accounts for them. (Well, I am pretty sure buyers wouldn't go to Facebook to make an order for 500k plastic bottles!)
For the last 10 years, our team (Ready Market Online Corp.) has been observing how B2B portals and manufacturers interact to find buyers, and how buyers react to the services. As time goes by, because search engine's improvements allowed buyers to receive Information meticulously, B2B portals with very little information about suppliers and products, or websites that lack introductions and materials, slowly got put behind - further and further. Competition is on! Spoiled buyers require quality info before leaving inquiries; suppliers need to find their way out. Based on the market demand and supply, we created a service model, namely Trading Buzz.
Trading Buzz was designed to fill the gap between search engines, buyers and suppliers. It allows buyers to have an in-depth understanding of suppliers' companies and products, and eventually turn into purchase actions. To create an attractive Buzz requires appealing stories and competent products.
If you sell auto parts, you should introduce your production lines, production capabilities, certifications and test labs; if you sell powder handling processing equipment, you should show what kind of materials you can handle; if you sell consumer IC designs, you should talk about what kind of solutions are provided; if you do investment casting, its capacity and why your product quality is better. All that information should all come with compelling stories to resonate with buyers. To make a story vivid, adding videos, pictures, flow charts, quotes can help.
What we do and what most Internet marketing company don't do
Knowing what the search engine rules are is one thing, applying the rules into writing is another thing. It's like placement marketing, if you don't do it right, people resent it and search engines can't find you. There are some key elements to take care when writing a story, including titles, keywords, length of titles, URL selections, keyword densities in the article, summaries of stories, slogans, links, pictures, descriptions of pictures, products, inquiry form design, links that go to product pages, and more.
Actually, pretty much everything we do is routine. It's very basic and necessary. When I just started this job, I over-thought too much and that led to awkwardness of articles. In the end, I realized that striking a balance between being authentic/human and search engine friendly isn't that hard. The challenges of this job are learning about various industries, finding the advantages of suppliers and establishing them truly with professions whether in the food sector, automotive, technology, processing equipment, consumer product industries.
Content design is a form that I use to remind myself about what search engines like and what I should consider when editing.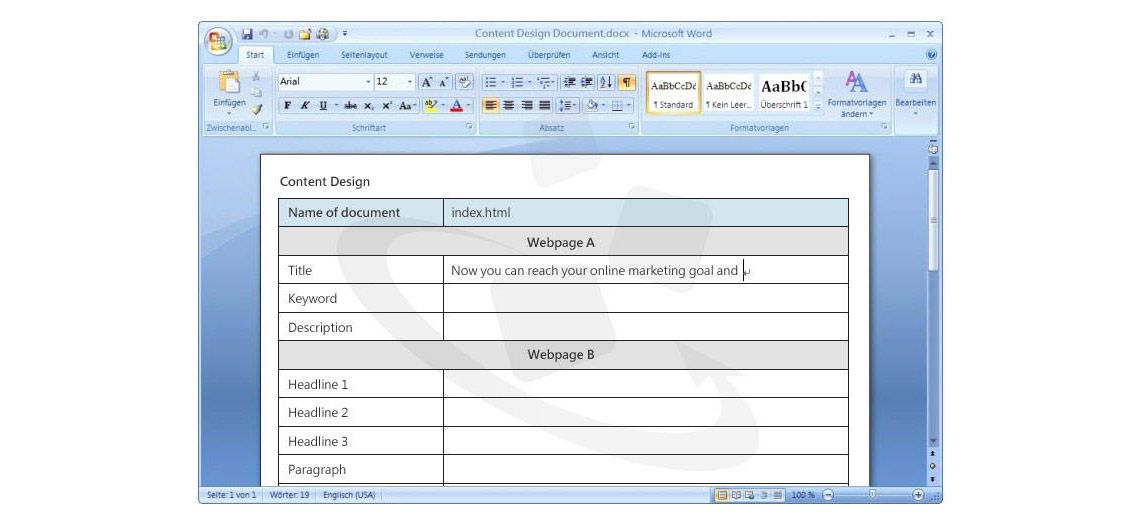 Writing a story is just part of Trading Buzz, many procedures are involved to ensure the story is spread to the targeted viewers and people who are influential. Luckily, our hard work always pays off when our clients receive quality inquires from buyers. Maybe not at the first phase, but our precisely collected information(Google Analytics)allows us to tackle and to analyze specific issues and fix them quickly.
We've self-designed a Visitor Tracking tool to help suppliers to find out about how each viewer behaves: where, when, how long, and how many. The data will allow suppliers to monitor potential buyers' interests and modify the content based on their reacts.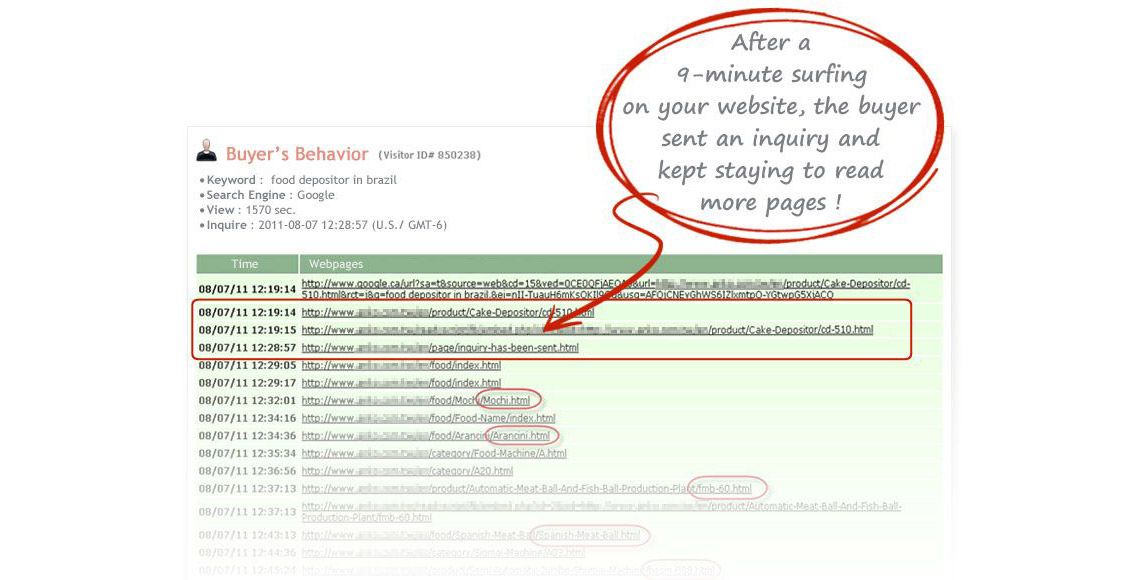 References:
Joe Pulizzi. " IT TAKES a CONTENT FACTORY! " Web. 19 Nov. 2013.
*1. Google Hummingbird is a search algorithm used by Google. To celebrate their 15th birthday, on September 27, 2013 Google launched a new "Hummingbird" algorithm, claiming that Google search can be a more human way to interact with users and provide a more direct answers.
*2. Google Penguin is a code name for a Google algorithm update that was first announced on April 24, 2012. The update is aimed at decreasing search engine rankings of websites that violate Google's Webmaster Guidelines by using now declared black-hat SEO techniques involved in increasing artificially the ranking of a webpage by manipulating the number of links pointing to the page.
You may also be interested in these topics:
Ready-Market Online Corp. / 3F-1, No. 143, Sec. 1, Keelung Rd., Xinyi Dist., Taipei City 110058, Taiwan
TEL : +886-2-2748-4387 / FAX : +886-2-2748-6261
E-mail : service@ready-market.com
Ready-Market Online Corp. / 3F-1, No. 143, Sec. 1, Keelung Rd., Xinyi Dist., Taipei City 110058, Taiwan
TEL : +886-2-2748-4387 / FAX : +886-2-2748-6261
E-mail : service@ready-market.com