Search Engine Marketing Strategies – Improve Your Ranking By Understanding How Google Works
Websites Made to Meet Search Engine Algorithms
Understand Search Engine Marketing: How Google Crawls & How Your Webpage is Fetched
As Maile Ohye, a support engineer at Google explains at "Google Search Privacy: Personalized Search",
Google's goal is to provide a personalization based on your search experience and preference.
When you search for a word "bass", are you searching for a fishing spot or checking out a guitar? How about "golf", are you talking about a car or a sport? Your IP address, domain and the country you are accessing Google from would allow Google to know about your location. But to know what exactly you are looking for, Google Search looks up your web history, studies what you read and delivers personalized search results to you. Like what Eli Pariser at TED Talk (Eli Pariser: Beware online "filter bubbles" | TED Talk | TED.com) mentioned, from what kind of computer you are on, what browser you use and what you look at - Google looks at 57 signals even when you log out. Thus, there's no doubt about Google's search accuracy, you can reach potential buyers in no time if you have precise keywords and valuable content on your web pages.
Googlebot's Crawling, Fetching, Indexing on Your Marketing Websites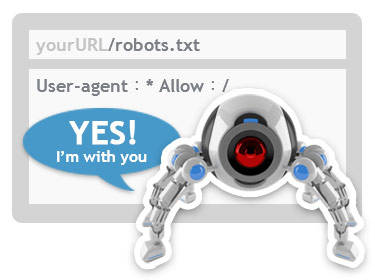 Google doesn't reach out for website content every time someone types in a search query; rather, it checks indexed web pages that are crawled by Googlebot. Googlebot is a web crawling bot (also called a "spider"); it crawls and indexes your web pages, and stores them in their machines. When you do a search, algorithms look up indexed pages and represent you search-result pages according to over 200 questions, such as: does the page mention the keyword, the quality of the page, is the keyword contained in the title, any synonym terms and how about its page rank, etc.
To find out whether your website is inviting Google's spider, you can type in robots.txt behind URL and hit enter. (Ex. https://www.ready-market.com/robots.txt) You should be able to see a line like this: User-agent: * Allow: /.
The Way Google Arranges Fetched Data
Google organizes indexed web pages based on a library system concept, thanks to both founders' library system studies at school. Imagine a person donates a stack of books to the library; a bookkeeper would separate them into different genres, which can help readers to find books they want in a short time. Once they've found the right type of books, reading through prologues allows people to have an idea about the content. So each web page is like a book, when Google delivers search-result pages, each page has its own title and description that provides brief info with a link.
Use Search Technique to Check Out Spider Crawling On Your Web Page
How do you find out about Googlebot's crawling on your website, and what do they look like on the search-result page?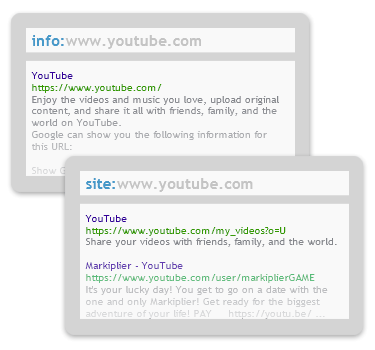 There are a few search techniques:
Type "info:" in front of an address, you can see a website's details.
Put "site:" in front of a site or domain, no space. For example, site:youtube.com.
You can see how many web pages have been crawled. info: is like searching for the index of a book - where you can see book title, introduction and description of a book.
As for site:, it is like an inventory of a book, which shows how many books are indexed and recommended for this specific book. To get more details about spider's fetch status, you can view them at Google Search Console.
Are You Competitive Enough in the Marketing World? Your Website Quality and Quantity Matters
Yet, there are many vendors in the same business, so how does Google pick the best one? Let's say if your competitor has over 1,000 web pages indexed by Google and you only have a few hundred. Since page number is a referral for Google, of course you will have less opportunity. This is about the quantity. And when buyers finally visit your website, how long they stay would depend on the content quality. If buyers stay and check out your products, the better the content is, the longer they stay.
How Buyer Search Behavior Can Affect Your Ranking: Rethink Your Search Engine Marketing Strategies
For example, if a buyer types a query "CNC machine" in Germany, IP address and OS all in Germany, algorithms look up the search term "CNC machine" that is indexed in Europe and deliver search results with .de. The buyer clicks on a link that is listed in the 3rd place, but finds a lack of info, he leaves and tries another link that is listed at 7th place after looking at title and description carefully. The website contains CNC machine's specifications, applications, and descriptions, and he stays for 30 minutes. By the end, an inquiry is sent to the vendor. Same thing happens in Germany with other buyers; next time when you do the same search again, the website originally in 7th is no longer there, his position has moved up.
So, a site owner
should have a search engine friendly marketing website for spiders to crawl easily.
Meeting algorithm criteria could put you in the higher rank. Once your ranking is high, engaging title and description would attract buyers to click, and the compelling content would make them stay. If you can absorb the above knowledge and put it into your marketing strategy, you are not far away from approaching your potential buyers.
You may also be interested in these topics: search_engine_marketing_vendor_guide.html
Ready-Market Online Corp. / 3F-1, No. 143, Sec. 1, Keelung Rd., Xinyi Dist., Taipei City 110058, Taiwan
TEL : +886-2-2748-4387 / FAX : +886-2-2748-6261
E-mail : service@ready-market.com
Ready-Market Online Corp. / 3F-1, No. 143, Sec. 1, Keelung Rd., Xinyi Dist., Taipei City 110058, Taiwan
TEL : +886-2-2748-4387 / FAX : +886-2-2748-6261
E-mail : service@ready-market.com