Search Engine & Content Marketing – Write From Buyer's Perspective
Quality Search Engine Marketing to Persuade Your Buyers – No More Thin Content
A Vendor's Guide for Search Engine Marketing – Content Writing Base on Buyer's View
As a vendor, do you know why or what you are paying for search engine marketing? You may have a website, but still don't know how to work on it in order to drive traffic. Or you want to make a website, and would like to know how the digital marketing works. Either way, wouldn't it be nice to know what your buyers think and care about, and how Google works so that you can incorporate these perceptions into your search engine marketing strategies?
What You Need to Know about Buyer's Behavior (What Do They Care About)
According to the B2B Web Usability Report provided by Huff/KoMarketing, buyer's behavior on the internet compared to years ago has changed. As you can see from the Report, 97% of B2B purchasing decisions begin on the internet, and 90% of buyers want to see the vendor's products and services. Furthermore, if you look at the chart for B2B Content Assets that Establish Credibility, the "must have" or "very important" factors include client lists, case studies, 'about' info and thorough contact info.

Based on the data, a website's home page is no longer the most critical page as you would think; instead, vendor's products, services, company introduction, as well as contact person and information are what buyers care about. So, if you are thinking about making a luxury home page, you might want to switch your focus.
You must build a relationship with buyers, by telling them the stories - the stories about the value of organization, your products and services. Lacking a clear sense of compelling and engaging content will lead buyers nowhere.
Vendor's Products and Services Are All Buyers Care About
Good products and services should be capable of satisfying customers' needs. What solutions would you propose in order to improve productivity, lower costs and increase product quality? Why is it beneficial to choose your company rather than the competitor? Tell your potential buyers about your product and service with details, and fully explain the concept for your business, along with purchasing, manufacturing, packaging, and distribution.

Case Study Is an Evaluation for Buyer
A story (case study) between vendor and buyer should be accentuated. What request from your client has helped your business to grow? What technology was improved with your client's assistance? What equipment have you purchased to increase product quality because of the cooperation? All the positive and cherished relationships between you and your customers would have significant influences on the potential buyers. Show them how much you care.
Detailed White Paper Shows the Scale of Your Company
A white paper that highlights vendor's productivity and capability would be essential. It should be a thorough list containing factory facilities, test equipment, manufacturing machines, lab scales and obtained certifications and research reports.
Client Lists and Feedback is Vital
Building a client list is essential because it can be a great referral for your future buyers. I know, there are concerns about showing your client list, but think about how you can expand your business by demonstrating your business relationships with clients. Always remember to ask for feedback from your customers, an email, testimonial statement, etc. The client list would provide confidence to buyers.
Structure of Your Business – Company Value
Along with the year of your business' establishment and the location, company organizers, partners, factory managers, RD engineers and every team's background, all their talents should be introduced to gain buyer's trust. After all, they are the key to making your company succeed.
Do not fear your business being watched; the more they know about you, the more comfortable they feel to contact you. Your company business concept, principle, structure, culture, history, vision statement and business objective should all be described in a paragraph. It is important to clarify your company values, make it compelling and you will earn buyers' trust.
Timeless of Response with Total Solution is What Buyers Ask For
What makes a buyer decided to send an inquiry? According to the results of our Sixth Annual Demand Gen Report, when a buyer is asked to rank importance when visiting a vendor website, relevant content that speaks directly to your company and easy access to pricing and competitive information are relatively critical. Again, back to what we emphasized earlier -
Products and Services and Company Advantages – the more precise, the more inquiries are sent by buyers.
And once you receive an inquiry from a buyer, what makes you become a winner? Of course, demonstrate product solutions to buyers with good ROI (Return On Investment), and more importantly, a fast response that would smooth buyer's purchase process.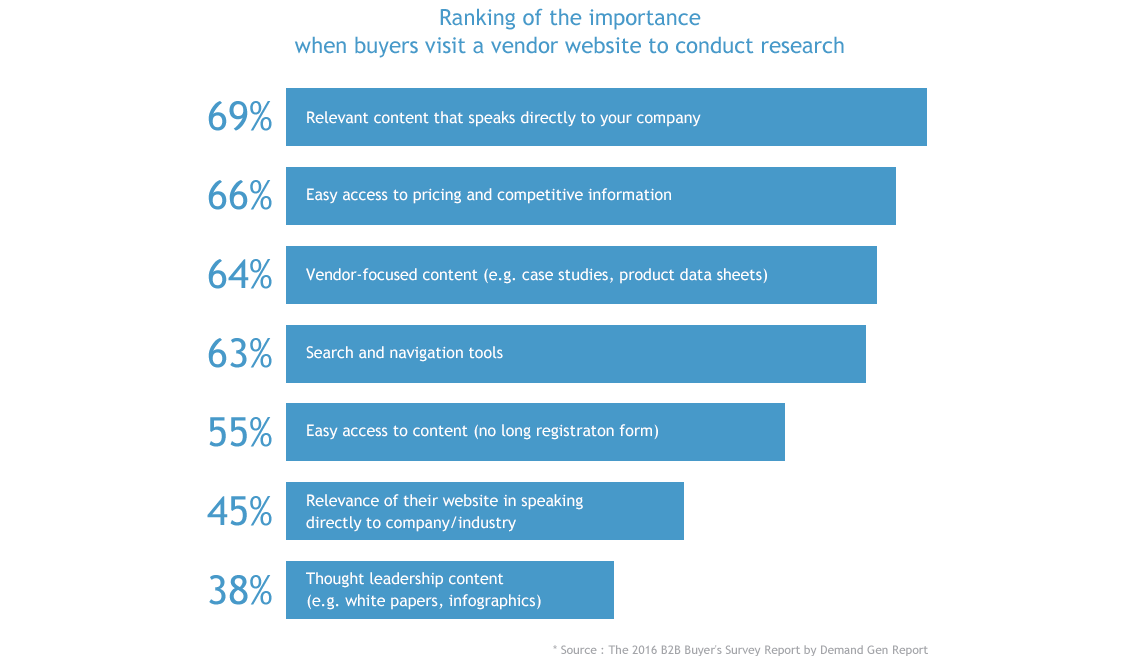 Writing Compelling and Useful Content is Imperative to Drive Traffic
Academic research indicates that searchers only look at the first three pages of the search results for one keyword. For those entire 30 websites, a researcher would probably click on 10 of them and in the end send less than five inquiries. So, it is easy to be searched in first three pages as long as Google Search Algorithm is followed. However, for a searcher to click on the link and take further action to send an inquiry would depend on the title and description. (The title and description that is shown in the search result.) Thus, writing an effective and engaging title and SEO Meta description can allure a searcher to do the following: click on the link, view your website content and send an inquiry.
Overall, Google's precision search results have had an impact on buyer's searches regarding finding qualified vendors and products. Consumers are seeking vendors directly due to the accuracy of keyword search, which has allowed them to make quick purchase decisions. It's time to reconsider the content of your website because it determines your website traffic, inquiry amount, and inquiry quality.
You may also be interested in these topics:
Ready-Market Online Corp. / 3F-1, No. 143, Sec. 1, Keelung Rd., Xinyi Dist., Taipei City 110058, Taiwan
TEL : +886-2-2748-4387 / FAX : +886-2-2748-6261
E-mail : service@ready-market.com
Ready-Market Online Corp. / 3F-1, No. 143, Sec. 1, Keelung Rd., Xinyi Dist., Taipei City 110058, Taiwan
TEL : +886-2-2748-4387 / FAX : +886-2-2748-6261
E-mail : service@ready-market.com